NED CROSBY
I had the privilege of being born into a boatbuilding/boatyard family.  That meant being exposed to every facet of a boatyard throughout my younger years.  A large part of that was witnessing and absorbing the importance of the relationship with both customers and employees.  Even today, when I see someone who used to work at Chester A. Crosby's back in the '70's and '80's, they always comment on how wonderful that time was.
After high school, the yard was sold and I went off to college.  I was away from the family's old yard for approximately six years.  During that time away I explored different career opportunities; however, by the mid '90's I was back at the yard building Haven 12-1/2's with a couple men who had been working at the yard when I was born.
In 1998, I ventured away from the comforts of Osterville and became a partner at Howard Boats on the north side of the Cape.  It proved a valuable, but brief, experience.  It only took a few years to realize I belonged back on the south side of the Cape … in Osterville.
It was 2001 when I formed and incorporated E.M.Crosby Boatworks.  We started small, with one building in West Barnstable and three employees, including me.  By 2009, we had nine employees while we built our Crosby 38.  As the years have passed, the yard has matured into a loyal service yard with over 100 boats.  Supplementing our service fleet has been a wide variety of building and restoration projects.  We are very comfortable where we are as a business.
Comfortable enough, in fact, that I was able to spend last year away from the shop fulfilling my 20+ year dream to go cruising with my family.  We were gone 11-1/2 months, traveling as far south as the Grenadines and over 7000 miles.
While away from the shop, I was able to think about our business with a much wider perspective.  Collectively, we have decided to re-shape E.M.Crosby Boatworks …we will be moving our operations back to the Osterville waterfront.
THE E.M. CROSBY BOATWORKS CREW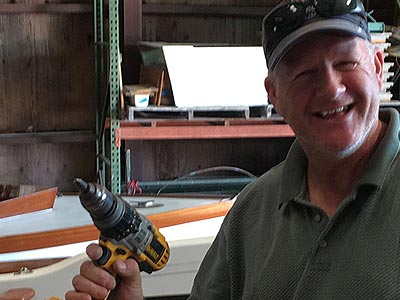 PAUL WRING
Ship Wright and Crew Member Paul Wring immigrated to the States from Bermuda in 2002. He grew up building boats with his Dad in Southwest England. The team built 5 boats before Paul went off to University to boatbuilding school in Cornwall. He worked for 9 years at a yard in Dorset before he decided to broaden his ship wright skills by moving to Bermuda where he ended up managing a boatyard there. Oyster Harbors Marine (formerly Chester A. Crosby & Sons) was what brought him to this country where he worked for 7 years. In 2015 Paul had the opportunity of a lifetime to be involved with the America's Cup and the 2016 Summer Olympics. Paul is the most recent member of the crew at E.M.Crosby Boatworks having joined in October, 2017.